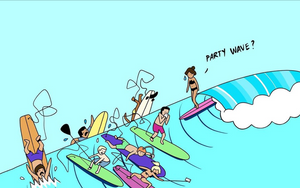 GREETINGS KOOKLORDS
Welcome to my super fancy print shop. Here you will find my current favorite doodles available to purchase. All prints are 8x10 inches or 10x10 inches.
If you are looking for a specific print, or size, that isn't on the site, a commissioned piece, portrait, collaboration or have any other inquires, please contact me and I can make it happen.
Also, feel free to contact via email if you wish to customize an existing piece (i.e. hair color, skin tone, board color) for an added fee. Extra special for yourself or your favorite kook. :)
ARTIST ROBIN LANEI
Born and raised in Monterey Bay, California, I started surfing when I was 9 years old. After travelling around the world, I found a paradise with everything I need; waves, warmth, community and of course, tacos, in Sayulita Mexico and decided to make the move down in 2012.
In the beginning I worked in a bar here and did a surf lesson there. Then, in 2016 with the push from some friends I started an Instagram account to document 365 days of drawing that gave my life a new direction. My drawings have since forth evolved into a public diary of my surf related experiences. Universal, cynical and sarcastic with a loving twist for my active passion in life. Hope you get as much of a kick out of it as I do.